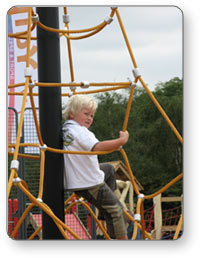 There is a growing trend in the commercial playground equipment industry to provide educational content and/or curriculum along with the equipment. This is brought on by an increasing demand from customers, especially in school settings, to provide an extension of the classroom learning on the playground.
Dynamo has been asked several times for a curriculum to accompany our equipment, but has chosen not to supply any materials. Firstly, the benefits of free, unstructured play have been widely recognized (and have been detailed in a previous Play Matters article "Rethinking Recess"). Continuing to supply children with more active learning opportunities during their play time actually has the opposite effect from what was intended, while providing them free play with passive learning opportunities allows children to process what they have learned and prepare for continued learning. Secondly, Dynamo playground equipment is replete with passive learning opportunities.
Come back next week for the continuation where we explore the first of these many passive learning opportunities.