In days gone by, kids were shooed out the door to go play at the neighbourhood park so their parents could get work done at home. These days, however, various concerns have caused more and more parents to come to the park when their children are playing and supervise the play. Unfortunately, this presents a new problem – how to keep a watchful eye on your children while they play.
Most traditional play structures are large constructions of wood or steel and plastic with barriers, guardrails and plastic panels that can all obscure or block lines of sight in the structure, requiring parents to continuously change position in order to effectively supervise their children. Dynamo playground structures, on the other hand, are constructed mostly of 20mm and 22mm cables (both less than 1 inch in diameter) with plenty of open space in between, giving parents an easy view of their child no matter where they are on the equipment.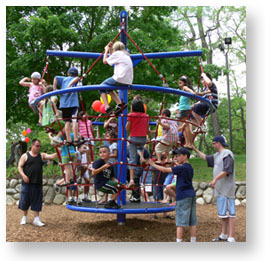 Of course, the best way to supervise kids at a playground is to play alongside them, and Dynamo playground equipment excels at providing exciting play experiences for children, young and old, and their parents and grandparents, too! Not only does this help make the playground a safer place, but it also keeps the whole family active and healthy.